"

Fresh and vital" - Tom Robinson
— BBC Radio 6 mixtape.
"

SICKY has been busy doing the lockdown, next month seeing yet another new album, Bowling Balls, one that inclines to his more commercial melodic pop sensibilities. Opening with a sample from the Apollo 8 Christmas message, 'Same Thing In Reverse' is a catchy staccato acoustic strum complete with whistling, followed by the all join in infectious 'we love ya' chorus of the glam-tinged 'Back In The Room' and a prowling rhythm groove 'The Last Hello' with paranoid guitar licks that perhaps hint at some Prince influences. The ebb and flow title track, at just under two minutes, nods to 60s psychedelia, the acoustic 'Birthday Song' is firmly of a country folk persuasion, sounding at times like a slowed down 'Tom Dooley', while 'Safe On Earth?' with its falsetto notes rolls out a budget orchestral feel. The Bowie strum styled 'I'd Die' begins the countdown, followed by the 60 second growly spoken 'Problem', rounding out with, first the yearning mid-tempo strut, acoustic guitar chugging and percussion clank slowly gathering Greenwich Village folk-blues anthemic balladeering of 'Water' that proves a particular standout, and finally, keyboards swirling, 'Three Lovers' with its chirping backdrop vocals pulse, swelling to a cathartic finale and close. It's essentially a simple affair in terms of arrangements, but I reckon it's the best thing he's done in years and, were it not for the nature of the industry and getting the exposure it deserves, would be the one to really put him on the map." - Mike Davies
"

Right, it can't just be me who hears this bassline and gets the Blues Brothers subliminal tune, The Peter Gunn Theme by Peter Howard? Much like the film this song features a shades-wearing multi-talented beast-man. That man is Sicky aka Mick Butler from Wolverhampton. Uber talented multi-instrumentalist who weaves and twists dark synth sounds with phatt (yep I went there) basslines and quirky vocals and smart lyrics. He compares himself to Goldfrapp meets Nine Inch Nails and if this track is anything to go by, the album will be a fabulous love child." - Chris Ingram
— Fresh on the Net
"

SICKY – You Give Me Love – Groovy. In a word. Psychedelic. In two. Funky. In three. This track shifts so well, it hurts not to move to it. Smart use of sonic-space to create an uber-cool, stripped-down production that bursts into instrumentation and breaks down back to sparse arrangement. Love the robot voice (I'm a sucker for a robot voice). It's just too damn cool for school! Roll on next week!" - Tobi
— Fresh on the Net
"

SICKY B – Gotta Let Go – Short. Fast. Loud. An overdriven drag racer fed through a Peavey and set to explode. Riffs crash and burn in distortion spanked fizz and noise. Bass driving and grinding the track in ever-gear-shifting acceleration. Love the crisp shuffle on the snare – but oh for some tasty low punch on the kick to really smash the track into the dirt. Vocals swoop and soar in protracted grooves and melodic shimmers. Rushing and hustling the guitars with uber-cool understated attitude. "Gotta Let Go" is shades and a mustang. Sunsets and cooked asphalt. Obnoxious and unrefined. Rock. 100% pure, undiluted rock. Step on the loud pedal and turn it up, kiddies! Roll on next week! " - Tobi (Fresh on the net)
"

The ramped up abrasive guitars and scuzzy riffs of Gotta Let Go kick off Sun's Up, the latest from SICKY, the driving steamrollering rhythm of Kick In The Ear keeping the momentum heads down before the trampoline swagger of Fit For Arrival delivers the musical equivalent of a strobe searchlight sweeping across your ears. These very much set the general dynamic approach, while, drawing on psychedelic Beatles influences Help Me (And Me) offers a sonic swirl that builds to another relentless guitar assault. Other than the gradually building Oasis-like My Obsession, there's not anything you might point to as a 'ballad', although, varying the musical stylings, the title track has a poppier Pulp-y feel while the naggingly catchy Transparent takes off on a jerky, breathlessly sung staccato jitter that pulls together Jarvis and Jackson some 80s bubbling synth-pop combo while Sic'ness nods to 80s sunshine funk. Another sterling example of the wealth of underrated talent the city has waiting for the world to wake up and pay attention."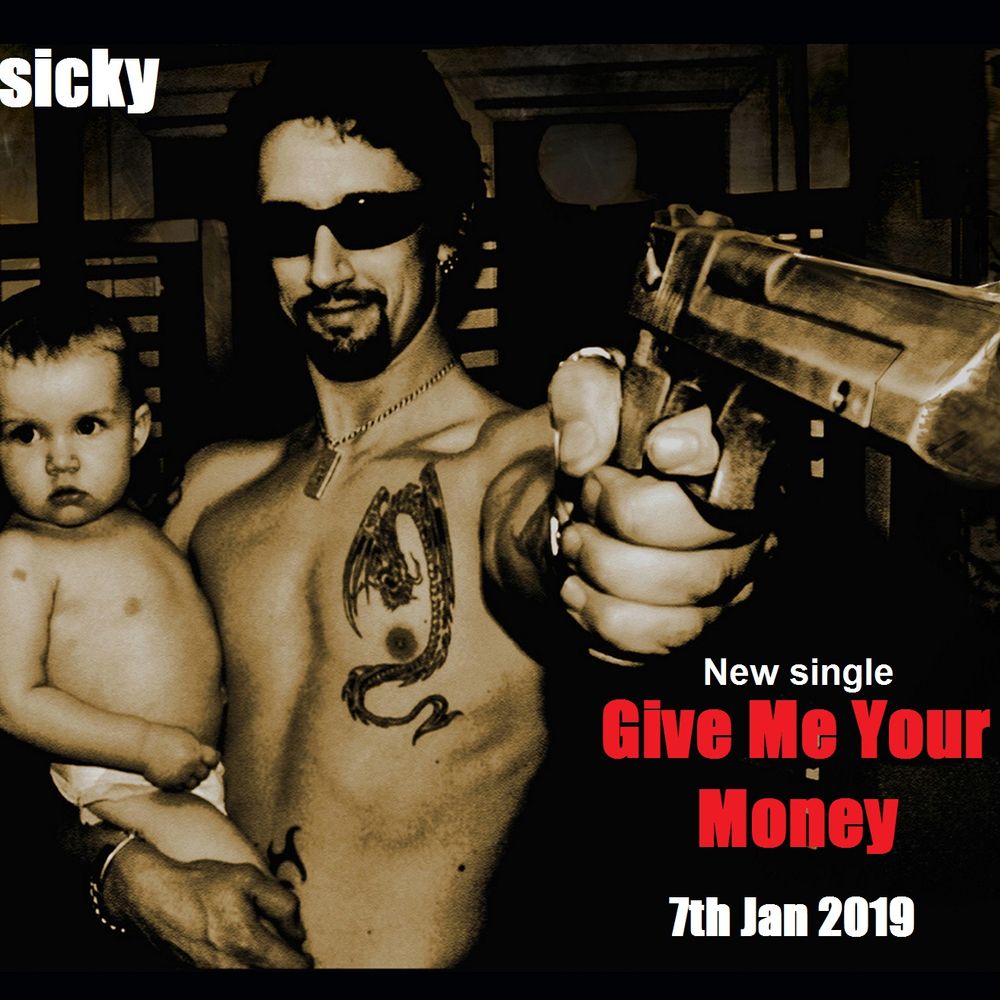 Single review
the Mike Davies column (roots and branches/the beat)
Were it not for his radio unfriendly nom de musique, SICKY, Mick Butler would likely be a much better known and celebrated singer songwriter, his indie pop riddled with melodic earworms. Case in point being stick-up new single Give Me Your Money, due for release in January, opening with electronic noise and a tension build guitars and drums intro recalling Do You Love Me, it rides a driving shuffling rhythm that suggests the sort of riff Marc Bolan might have crafted were he to have holed up with early Prince.
"

Following on from last year's 24 Days, Mick Butler aka SICKY has a new three-track EP, Star, that again underlines his ability to write accessible catchy melodies and deliver them with power and conviction. The lead track is a rousing glam rock stomp with a strident drum drive and bursts of raging guitar, an urgency that also drives the tribal thumping Einstein's Baby, while, in contrast Water is a more stripped back ebb and flow bluesier number with a raw demo feel."
I don't know much about the artist who calls himself sicky. He has played in a number of bands and recently released 24 days which seems to be a complete solo album. Either way 24 days is a slightly off-kilter rock album. I wouldn't go so far as to say it's experimental but sicky isn't afraid to take some chances.

The album starts off with "Everythings Electric Just Plug Me In" which is a highlight. I liked multiple things about the song but the thing that got me was the layered vocal harmonies. There's a bit of a late '80s, early '90s rock vibe going on especially when he sings "let it begin."

Up next is "Miracle" which is a little more just straight rock.There weren't too many surprises along the way with catchy verses and a harder hitting chorus. I was a little more intrigued by the beginning of the title track. Something about the initial melody felt like a repetitive mantra and set the pace for a fun, rock song. "Out of My Mind" starts with a prominent beat that will get you moving. I thought the pacing was great especially the way the sheets of distortion come in from the guitar on the chorus.

His vocals were treated differently on "House" at points. It seemed like they were layered with some kind of modulation effect which worked for the song. "Radar" felt like the centerpiece and was the clear standout along with "Everythings Electric Just Plug Me In." "Radar" starts off sparse with guitar and vocals.

As the song progresses it gets layered with more instrumentation and eventually goes into the most epic chorus on the album. The song is really dynamic as well making the epic moments feel that much more epic. But don't stop there because "I'll Send You the Dream" and "All In" have some inspired moments as well.

​Even though there were a couple of tracks that didn't float my boat I thought the delivery and production was great. 24 days is a solid album that obviously had a lot of work put into it. Take a listen.